A jam-packed day. Our companions for breakfast were Bill and Carol McCarty (ID), Howard Meeks (FL), and Alice Fink (Amherst MA). At some point I should mention that we created our breakfast by selecting from the central table, the one used as a salad bar the other two meals. I routinely had a glass of red orange juice, cold cereal (corn flakes laced with granola), a boiled egg, a wedge of delicious cheese spread on a hard roll, a cup of yogurt, a sweet roll and a capucchino. Several times I added a slice of ham as well. A very substantial breakfast ... especially considering that breakfast for many Italians consists of un espresso e una sigaretta.

At 9:00 we had a lecture on Renaissance architecture by Evelyn McFarlane. She was very good. Evelyn McFarlane is an architect, painter, and mother, living and working in Florence, Italy. She was born in Brooklyn N.Y., and was raised on Long Island and in San Diego. She returned to the East Coast to attend the architecture school at Cornell University, and graduated in 1985. She got her first job as an architect in Cambridge, Massachusetts and then continued her career in New York City. She then taught at Syracuse University in the School of Architecture both in Syracuse, NY and in Florence, where she finally got back into her life-long love of drawing and painting. In 1996, she decided to follow her heart into a career in painting and began her studies of drawing and painting at the studios of the Florence Academy of Art, under the direction of Daniel Graves. After three years, she began painting in her own studio and has resided in Florence ever since. Her passions are art and architecture of the renaissance and she lectures on architecture and drawing for various programs in Florence. McFarlane is also a co-author of a series of books entitled, If.... Questions for the Game of Life. She has sold work through galleries in Italy and the United States, as well as to private collectors. Here are some samples of her work.

Our companions for lunch were Dick Flower (San Francisco CA), Susan Degan and Joan Rearick (both IN), Howard Meeks (FL), Brooks and LInda McDaniel (IL).

Florence/Firenze

We boarded our Lazzi Autobus for Florence. The day, which began sunny, became more menacing as we approached our destination. The goal for today was simply to orient us to Florence. We began our walk near the train station and Santa Maria Novella. The high spots passed along the way included the Duomo, Baptistry, Galileo's clock tower, and the Palazzo Vecchio.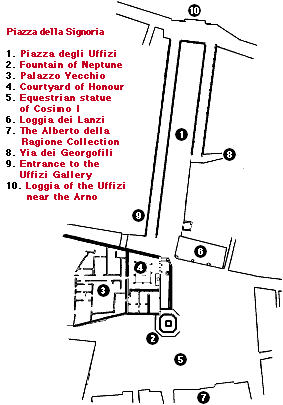 | | | | | | |
| --- | --- | --- | --- | --- | --- |
| | | | | | |
| Piazza della Repubblica (note carousel) | Pallazo Vecchio (city hall) Statue-filled Loggia to right | Cellini's Perseus with the head of Medusa | Michelangelo's David (a copy on the original site) | Ammannati's Neptune (note horses at base) | Cosimo I de Medici |
| | | | |
| --- | --- | --- | --- |
| Vacca Lion guarding Loggia | Menelaus holding Patroclus | Evelyn showing palazzo features | |
We were joined by Evelyn again for a walking tour of palazzos in varying styles. The rain grew heavier and heavier. Thunder sounded in the not-too-distant distance. It was all rather romantic, dramatic, and moody. Incidentally, the sign over the arch reads (to me anyway) "The ancient center of the city / From secular squalor / To a restored new life", 1845. The Palazzio Vecchio was actually designed as a fortress: there are few windows at street level and trap doors under all the coves around the top floor and the top of the tower, through which could be poured boiling oil. The square crenellations on the Palazzo indicate "Guelph" (Pope) rather than "Ghibelline" (Emperor) ... easy memory aid: one syllable vs. three syllables.


We returned for a rest and dinner. Our companions were Dick and Marguerite Kniffen (FL), Richard and Alice Fink (MA), and John and Susan Jewett (VT). Before dinner Piero-Luigi talked us into trying the local aperitivo, a Milando-Torino. It's an interesting drink, one which we've continued to enjoy throughout our stay and after we got home.

To Concoct a Milano-Torino:

over ice (optional)

about 4/5ths Sweet (red) Vermouth

about 1/5th Campari

splash of mineral water (fizzy or naturale), optional

add a thin wedge of lemon or orange.

Cin cin!


Piero-Luigi, bartender
After dinner we were treated to Kim Williams' lecture on Leonardo as scientist. And then to bed.